Dr. Vishnuvardhan Brief Biography, Pictures and Marriage Photos
By Jayita, Gaea News Network
Wednesday, December 30, 2009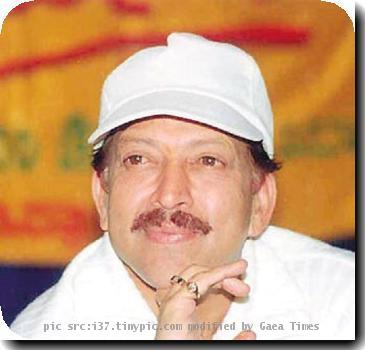 more images
BENGALURU, INDIA (GaeaTimes.com) — Dr.Vishnuvardhan, a popular actor and singer of Kannada film industry has passed away yesterday (December 30th, 2009) due to a massive heart attack. Vishnuvardhan is survived by his wife and two daughters.
Dr. Vishnuvardhan was suffering from some health hazards for the past five years and recently he had been to Mysore for rest. On 29th Dec, he was admitted to Vikram Hospital Mysore when he complained of severe chest pain. He died of heart attack yesterday. He was honoured with six Filmfare awards. He had acted in 200 Kannada movies. The shooting of his 200th movie Aaptha Rakshaka was delayed due to his knee injury.
Biography
Dr. Vishnuvardhan was born on September 18, 1950. He got fame as an actor and as well as a singer in the Indian state of Karnataka. He was one of the most versatile, talented, stylish and popular actors in the Kannada film industry. His role in romantic, action, emotional, music, comedy or family dramas have been widely praised.
Vishnuvardhan was born to Late Sri. H.L. Narayana Rao and Late Smt. Kamakshamma. His family made a living in Mysore's Chamundipura. His original name was Sampath Kumar. Later he adopted the name Vishnuvardhan. The name was being suggested by Puttanna Kanagal, director of his maiden film Nagarahavu.
Vishnuvardhan's family was involved in activities like art and culture. His father was an artist and script writer for movies. He used to teach dancing. Vishnuvardhan has one elder brother and four sisters. One of Vishnu's sister, Smt. Ramaramachandra was a Kathak dancer, who was praised by the then King of Mysore, Late Sri.Jayachamarajendra Wodeyar.
Vishnuvardhan did his primary schooling in Mysore's Gopalswamy School and his middle school in Bangalore's Kannada Madari School. His High School and his degree in the National College, Basavanagudi, Bengaluru.
Vishnuvardhan was married to Kannada actress Bharati on 27 February 1975 at Kuchalamba Kalyana Mantapa in Bangalore. He has two adopted daughters, Keerthi and Chandana. Keerthi is married to Anirudh, an upcoming actor in the Kannada Film industry.
Career
His first film was Vamshavruksha, directed by Girish Karnad. It was a National Award winning movie. He first appeared in a lead role for the movie Puttanna Kanagal, directed by Nagarahaavu. This movie made him an overnight star. Through his three and half decades of career, the eminent actor showed his caliber in various popular roles.
Some of his all-time hits are Naagarahaavu ,Muthina Haara, Hombisilu, Sahasa Simha, Bandhana, Naagara Hole, Nishkarsha, Yajamana, Bhootayyana Maga Ayyu & Apthamitra.
Vishnu started to wear the "Kadha" from 1980. He first wore it in the movie Simhajodi and remains with him still. It was given to him at a Gurudwara in Bidar.
As a Singer
He started singing in movies occasionally and of late, he has started singing devotional songs for albums. The first song he sang was in the movie Nagarahole. The first devotional album sung by him was on "Lord Ayappa" and the title of the album was "Jyothiroopa Ayappa" and was a big hit. His other albums were "Thayi Bhanashankari" on goddess Banashankari. One more album on Ayappa called Vishwapremi Ayappa. He has also sung devotional songs on Dharmastala's Lord Manjunathaswamy, Malemadeshwara and Ranachandi Chamundi.
Some of his famous songs are:
Hegiddharu Neene Chenna - Sahasa Simha
Shashiya Kandu Moda Helithu - Sirithanakke Savaal
Thuthu Anna Thinnoke - Jimmi Gallu
Beda Annoro Unte - Sididedda Sahodara
Kannadave Nammamma - Mojugara Sogusugara.
He has tried singing some songs in some movies (Seethyalla Savitri, Sahasa Simha, Jimmy Gallu)
As an actor
He is a southpaw and wears a steel armlet in almost all his films.
Kannada films — He has acted in about a dozen movies produced/directed by Dwarakesh. Apthamitra was one of the biggest hits of South Indian film industry. This was later remade in Tamil as Chandramukhi, again a big hit starred by Rajanikant.
ApthaMithra-II' is titled as Aptharakshaka and it will be the 200th film of Dr.Vishnuvardhana. It will be going on floors on March 10 in Palani under the direction of P.Vasu.
The movie "Yajamana[2001]" was a super hit in which he plays duo role as elder and younger brother. The movie was the most hit in the Kannada cinema history before Mungaru Male took over it.
Tamil films — He has acted in two Tamil films - Viduthalai and Sri Raghavendra, both films starred Rajinikanth in a leading role. In Sri Raghavendra he appeared in a guest role, while in Viduthalai he starred as a second hero. He acted with Sivaji Ganesan in the same film.
Malayalam Film — He has acted in a Malayalam Film - Kauravar with Mammootty.
Bollywood films — Vishnuvardhan has acted in three Bollywood films; Inspector Dhanush and co-starred with Akshay kumar in films Ashaanth & Zaalim.
He has also acted in one episode of TV serial Malgudi Days Episode 18 - "Forty-Five a Month", directed by Shankar Nag.
Remarkable Incidents
While shooting for Muthina Haara movie, Vishnu performed a dangerous parachute dive without a dupe and missed death by a whisker.
He was reportedly beaten up by his mentor, Puttanna Kanagal, during the filming of Naagara Havu, for correcting his acting.
He ventured into parallel cinema and acted in movies like Harakeya Kuri (based on Dr. Chandrashekar Kambar's novel with same title). It is believed that the huge fan following of him didn't want Vishnuvardhan to deviate from his "Star Value" and "image". He continued to don the roles of macho hero and the ideal lover husband.
The Legend passed away yesterday. This is considered as unbearable loss to Kannada Film Industry & the people of Karnataka. He will be remembered forever by millions of movie buff.