Daya ben to Daya Babe only on Tarak
By SAMPURN
Thursday, July 23, 2009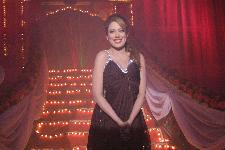 Last week we introduced you with not-so-Dayaben Disha Wakani in an interview where she had divulged many interesting dissimilarities between her and Dayaben.
We all have seen her in typical Gujarati bumpkin avatar but according to our source, soon we all will get to see her westernized version, not elsewhere but in her own popular serial 'Tarak Mehta Ka Ulta Chashma'.
Recently blabber-mouth Dayaben did shock the audience by her silent protest against Jethalal and now she will take all of us by surprise in unexpected avatar. "She has donned the attire for Babitaji's Birthday party" informs the source.
Wassup Daya? Ben to Babe Seems like, the short and sweet bug is catching up on our television stars too.
- Deepa Mishra/ - SAMPURN